Specifications
Cat. No
Volume Setting
Volume range(μL)
Increments(μL)
Usable tips
00-NPX2-2
Digital Setting
0.1~2
0.002
BMT2-UT/UTWR、FUT/FUTRB
00-NPX2-10
0.5~10
0.01
BMT2-SSW/SSWR/SSWRB、
FSS/FSSRB
00-NPX2-20
2~20
0.02
BMT2-SG/SGR、SE/SER、FSG/FSGRB
00-NPX2-100
10~100
0.1
BMT2-SG/SGR、SE/SER、FSG/FSGRB※、FSE/FSERB
00-NPX2-200
20~200
0.2
BMT2-SG/SGR、SE/SER、FSE/FSERB※、FAG/FAGRB
00-NPX2-1000
100~1000
1
BMT2-LG/LGR、LE/LER、FLG/FLGRB、FLE/FLERB
00-NPX2-5000
1000~5000
10
BMT2-X/XR
00-NPX2-10000
1000~10000
10
BMT2-Z/ZR
AC & CV
Cat. No
Volume(μL)
Accuracy(%)
Precision(%)
00-NPX2-2
0.2
±12.0※
≦6.0※
1
±5.0
≦2.5
2
±3.0
≦1.0
00-NPX2-10
1
±4.0
≦3.0
5
±1.0
≦1.0
10
±1.0
≦0.5
00-NPX2-20
2
±5.0
≦3.0
10
±1.0
≦1.0
20
±1.0
≦0.4
00-NPX2-100
10
±2.0
≦1.0
50
±1.0
≦0.3
100
±0.8
≦0.3
Cat. No
Volume(μL)
Accuracy(%)
Precision(%)
00-NPX2-200
20
±1.0
≦0.5
100
±0.8
≦0.3
200
±0.8
≦0.2
00-NPX2-1000
100
±1.0
≦0.5
500
±0.8
≦0.3
1000
±0.7
≦0.2
00-NPX2-5000
1000
±1.0
≦0.3
2500
±0.8
≦0.3
5000
±0.6
≦0.2
00-NPX2-10000
1000
±2.0
≦0.4
5000
±0.8
≦0.3
10000
±0.4
≦0.2
*The AC and CV values below 0.2μL depend much on the operator's skill and the environment under which the pipette is used.
*The AC and CV values are the values by use of the disposable tips described in the catalogue.
*The specification and price are subjected to change without notice due to modifications for quality improvement.
*The Nichipet EX Plus Ⅱ is made of parts resistant to organic solvents which makes it more durable than previous pipettes in environments with organic solvents. However, it does not guarantee accuracy of dispensing organic solvents.
*As the body of the Nichipet EX Plus Ⅱ is not resistant to organic solvents, make sure it does not come in contact with the organic solvents.
Stands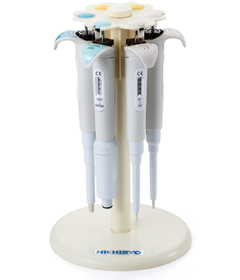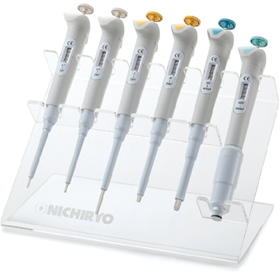 S-PAC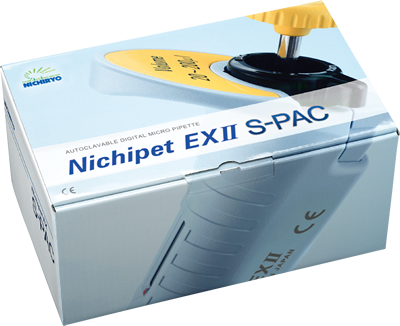 Select a Region / Language
Asia-Pacific
Americas
Europe, Africa, Mid East