Durability of Micropipettes
High durability materials are used in parts of Nichiryo's Micropipettes that are prone to friction and wear when pipetting.
Nozzle wear from attachment/detachment of the tip over time will eventually cause poor engagement with the tip and affect dispensing accuracy. Also, the seal ring worn by friction will affect the plunger's airtightness. By using more durable materials for these parts, especially the following models can be used for a long time with confidence.

Durability of the Nozzle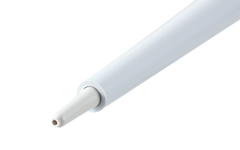 Durability of the Seal Ring
The seal ring minimizes friction with the plunger, allowing smooth pipetting. Furthermore, in the models below, more durable materials are used, and durability test of 600,000 times of pipetting has also been done. (Usage calculation based on 10,000 times a month, 120,000 times for a year, and totaling 600,000 times tested; for an approximation of 5 years of usage.)
Models / NPP-2, 10, 20, 100, 200(1000, 5000, 10000 are excluded.)
Models / NLT-2, 10, 20(100, 200, 1000 are excluded.)