2018.02 Updated
User Interview/Kindai University Faculty of Pharmacy Advanced Biomedical Products
We talked to Associate Professor Hiroyuki Moriyama of Advanced Biomedical Products, Kindai University Faculty of Pharmacy
Please tell us your research theme
We are doing research of dermatology and stem cell biology that field akin to regenerative medicine. We research on every day to achieve that human's skin is able to be generated in the test tube completely. Attached is for students, but please see Kindai University Faculty of Pharmacy Advanced Biomedical Products.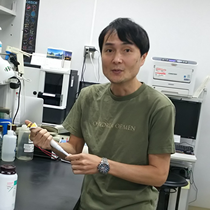 Associate professor Hiroyuki Moriyama
How do you use the Micro pipettes?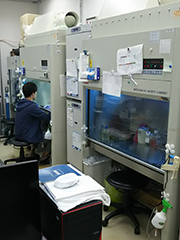 Please tell us the performance you would request to micro pipettes.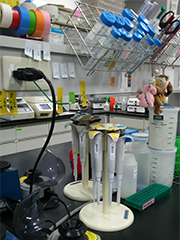 It is accurate. The accuracy is required in addition to high safety environment such as no contamination and clean in research of regenerative medicine. It would be preferable that both of them equipped at a high level. It would be better if you could fine-tune it gradually to be used in clinical practice and regenerative medicine field although you would not need to do right now. I think you can win customer's confidence if you are able to collect the opinion of the research site and develop better one together.
Although it is detailed request, it would be better the pipette has capability of fumigation sterilization. Fumigation sterilization is a sterilization meth that performed in the space where ammonium is filled. It would be preferable for sterilizing the cabinet itself as well.
And more importantly, I have fascination with 'domestic'. If we can work on regenerative medicine conscious with 'All Japan', people think that Japan as brilliant country worldwide.
Please tell us your future resolution.
I would like to do my best to aim at utilization in medical field by regenerative medicine of research of dermatology and stem cell biology. I think that it will be possible to extend a healthy life-span by stable supply of them, so I would like to develop them in those field.
Nichiryo products mainly used in their laboratory (micropipettes)