We talked to Mr. Toru Kishimoto of Asahi Breweries Research Laboratories for Alcohol Beverages.
Please tell us about the research and development at your Laboratories.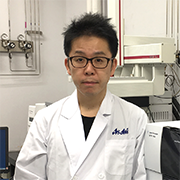 Asahi Breweries Research
Laboratories for Alcohol Beverages
Mr. Toru Kishimoto
We analyze the fragrance component of beer, express the quality and strength of scent as analytical value, and based on the results of those we aim to provide products that exceed customers' expectations. The final phenotype of food is "taste and fragrance". For food manufacturers like us we need to produce a large quantity of certain high quality products. For that purpose it is necessary to express the scent and taste of the product as analytical value and manage its analysis value in the manufacturing process. Moreover, if it becomes possible to express the quality of scent and taste as analytical value, we can quickly create "design drawing" of taste and scent of various kinds of products and develop products, respond customer's needs and expectations, market change promptly. My work is to express scents as analytical values by making use of all analytical instruments and extraction methods.
In what kind of work are you using a micropipette?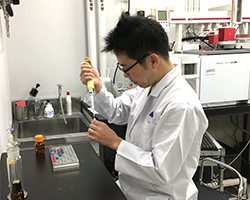 Please tell us about the performance and functions required for the micropipette.
It is definitely "accuracy". Everyone thinks the accuracy is the most important thing, and maintaining accuracy at all times is looked for. We do not want to see the accuracy gradually goes out at the μL level in the middle of usage and no one notices it. In textbooks, it is said to measure micropipette dispensing capacity with an electronic balance once every three months. If it is a big deviation by mL level, we can notice it with the inspection method, but it is difficult to notice it if it is only a subtle deviation by μL level. The person himself / herself who is experimenting believes in the micropipette's scale, so the one never dream about the accuracy going wrong.
The second feature we want is ease of maintenance. It happens often that researchers aspirates samples or reagents into the inside of the micropipette mistakenly. In such a case, we must immediately clean it by ourselves or replace parts. Nichiryo's pipette has the advantage of being very easy to maintain even by ourselves. Some of the other company's micropipettes that we used in the past had structures that could not be disassembled by users like us in order to maintain accuracy, and when we accidentally aspirate samples and reagents into the inside, every time we used to send them to the manufacturer to clean it. I understood the intention of keeping accuracy, but such a structure that is difficult to maintain is not what we want.
Please tell us the introduction process of "organic solvent pipette Nichipet EX Plus" you are using.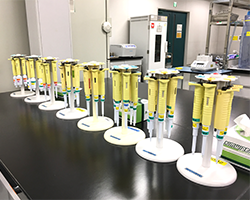 Acids and solvents can be used. In our experiment, there are almost no cases when we weigh materials other than acids and solvents. In the experiment, experimental system is scheduled by varying pH condition and polarity condition. When changing the pH condition, add it while strictly adjusting the amount of acid or alkali with a micropipette, and when changing the polarity condition, add it while precisely adjusting the amount of solvent with a micropipette. We also dissolve samples and reagents in acid, alkali, solvent and dispense them. In any case, it is more common to aspirate acid or solvent with a micropipette. Many of the micropipettes manufactured by other manufacturers use packing materials made of metal and solvent that are used in the inner structure, and they are not very resistant to acids nor solvents, and that was a problem for us. When using such a micropipette, accuracy was deteriorated frequently and it was noticed that apparently accuracy got deteriorated during use.
At that time, Nichiryo introduced us Nichipet EX Plus. Nichipet EX Plus has an internal structure composed of PTFE and perfluorinated rubber packing, and acid and solvent can be used. Anyway, as a response from the users around us, every one of our colleagues are extremely pleased saying "The capacity is not going wrong with repeated use." As a result, all pipettes became Nichipet EX Plus as shown in the picture.
Please tell us about the current situation after switching to Nichiryo product.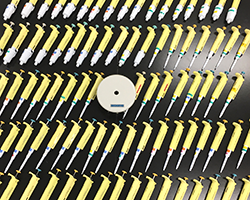 Please tell us the prospects for future research.
Of course, as I mentioned at the beginning, we aim to express the quality and strength of the fragrance of beer as an analytical value and connect the achievement to the products that exceed customers' expectations. For that purpose, it is necessary to more precisely express the quality and strength of the fragrance of beer as an analytical value, and it is also necessary to precisely quantify more kinds of trace components. To that end, we need more precise quantitative and analysis as mentioned, and I am certain that the needs and expectations for Nichiryo's micro pipette will increase more and more.